Terrace Martin presents his group The Pollyseeds harnessing the talents of many great musicians including Robert Glasper, Kamasi Washington, Trevor Lawrence jr and many others to make an outstanding Jazz and Soul album, full of hypnotic vocal and instrumental tracks , the soundtrack to the summer of '17.
UK artist Terri Shaltiel has made a very interesting 7 track EP/CD of Funky/Bluesy Soul well worth a listen  and Irene Rene has a really nice quality Soul album due in 
tomorrow
. There are a few new releases on the Dutch Isole label plus a great 10″ single from Zara McFarlane 'All Africa'.
Ray Barretto's classic Latin album 'Acid' is reissued on CD and LP.
Tristan in store tomorrow (Saturday 15th July)
Tristan will be in store tomorrow signing copies of their Live in Concert' CD along with Heston who will be signing his 'Transparency' . They will be here at 1pm, I hope you can join us. If you can't make it but would like a signed copy you can order Tristan here and Heston here.
Pre-orders
Pre-order for next week Trevor Lawrence Jr brilliant 'Relationships'  CD and the Voices of East Harlem 45 and two albums on one CD. You can view all the pre-order titles here.
Our Summer Sizzlers deal is on now…grab a bargain with 5 CDs for £25 (or £6.99 each) – til end of September or while stocks last! Shop for deals here
The fourth 45 label focus is on Stax , there are some great titles available at just £5 each or 5 for £20 , and you can pick n mix with titles from the previous focuses on Philly, Polydor/Spring and Epic, to make as many deals as you like whilst stocks last.
Don't forget to come to the Darien in store next Saturday 22nd July at 1.30pm launching his great new album 'Departures'.
Win tickets to the Hook & Sling festival.
Hook & Sling Festival are giving away 10 pairs of tickets to their huge funk weekender in London on 21st/22nd July. For a chance to win all you need to do is answer this question: "Name the New Orleans artist who recorded the song 'Hook & Sling' in 1969". Email your answer to soulbrothers@soulbrother.com Winners will be drawn on Monday 17th July so hurry if you want to win!
Also check out this great gig coming up in September with Soul & jazz.com  , featuring MichonYoung, Lindsey Webster, Miles Sanko and Resolution 88.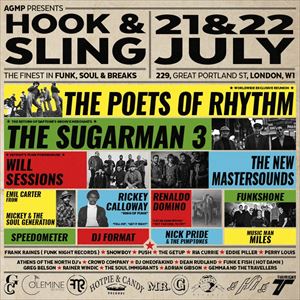 Radio Show
I hope that you enjoyed the show 
on Sunday
, if you missed it you can catch it again on the podcast 
here
 . I hope you can join me again for another Soul Brother Selection at 
10am
 on Solar radio/sky0129 
this Sunday
.
have a great weekend
Laurence